Alumni Business Camp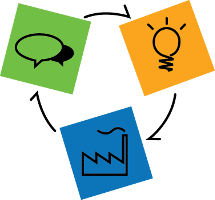 Alumni Business Camp (ABC) is an idea that was created within the alumni members of BEST (Board of European Students of Technology). We realise that we have a great potential that we don't explore a lot, and that is why we decided to meet and talk more about it. And what's better and more relevant topic than entrepreneurship these days? The first edition of ABC took place in Berlin from 7th till 9th of October 2011, and it was the first attempt for alumni of BEST to help each other on entrepreneurship matters. The second edition took place in Barcelona from 26 to 28th October, 2012 and it gathered 48 participants from all corners of Europe. There was a third and a fifth iteration that took place in Brussels and Budapest respectively and in all the editions the goals of the events were:
Networking. People should have the possibility to get to know new people, exchange contacts.
Getting informed. People should have the possibility to gather new information and get informed about new methods, practices and trends.
Getting feedback. People should have the possibility to gather feedback for their ideas.
Having fun! We still have the BEST spirit inside us, so we always want to have fun with whatever we are doing.
All four events were characterised as a success, since the goals were fulfilled; Participants networked with each other, they got new information and feedback, while they had a lot of fun. For the moment, due to lack of time and energy, there is no plan to organise a next ABC. However, things change and we might take up the hard work again and organise something in 2017. So, stay tuned in order to get more information about a potential new edition by checking our website: www.alumnibusinesscamp.net